Help us help you
The main goal of the Fons & Porter Web site has always been to provide a constant and convenient resource for our fellow quilters. Even though we are continuously researching for new ways to further improve the communication among quilters around the world, we find that typically the very best suggestions come directly from enthusiastic quilters just like you.

It was one such suggestion that led to our most recent introduction of educational videos http://www.fonsandporter.com//aspx/FonsandPorter/education/Default.aspx.

We have found that these exciting new videos are helping to build bridges between quilters who always wanted to learn certain techniques and procedures but just couldn't conveniently link up with the pros in those respective fields.

Now, the online quilting course, "Fons & Porter Master Class" has been launched, and with it comes a whole new world of quilting education. Let us know what you think about these new videos—and thank you. We have learned to truly value your suggestions.


In keeping with the festive season, we invite you to share some of those great holiday recipes. After all, quilting and baking just seem to go hand in hand. Just log on to http://www.fonsandporter.com/aspx/FonsandPorter/fp/contact/recipeform/recipeform.aspx and help create some new holiday fun for others.
Don't forget to stop by www.ShopFonsandPorter.com and check out some great newsletter subscriber-only bargains.
Nuts & Robolts - This colorful quilt is sure to delight any child.
Regularly $101.00 on sale now for $80.00 with coupon code FPROB.

5½" Scissors - Handy all-purpose small scissors—A great size for your sewing kit.
Regularly $15.99 on sale now for $7.99 with coupon code FPSCI.
Fat quarters, from me to you by Yvonne Hamilton, Renton, WA

I thought you might like to see a photo of my 50 Fat Quarters Quilt. For the last two Christmases, one of the gifts my husband has given me has been a box full of beautiful fat quarters. He actually picks them out all by himself at the local quilt shop. That is pretty impressive, especially since I didn't think he even knew where the shop was!

The first year I used up the fat quarters; one here, one there, until they were all gone. But, this time, I decided to keep them all together in one quilt. Of course, to find a pattern, I had to dig through my collection of Love of Quilting magazines. Your magazine is wonderful and always full of inspiration. I save them all, organized in binders (yours is the only magazine that gets this special treatment!). The pattern I chose for last year's Christmas fat quarters, was from the 2004 January/February issue called the Barbara Frietchie Star. It was the perfect pattern for this project, if only because it called for exactly 50 fat quarters. I added a neutral background fabric for the stars, but all of the rest of the top, including the binding and borders, was from the fifty fat quarters.
PS: Our technical team wants to let you know about an update that may affect your ability to play back video content at full-screen. Flash released an update recently which disables the full-screen playback feature in our videos. We're looking into the solution now and hope to resolve the issue soon—we apologize for any inconvenience. If you have not yet installed this non-critical update and wish to continue viewing in full screen as we resolve the issue, we kindly request you not install this update. Thanks!


Give a Gift Subscription to Love of Quilting Magazine
A great gift that quilters love is a gift subscription to Love of Quilting magazine. Did you know that when you give a gift subscription, you are actually giving three different gifts?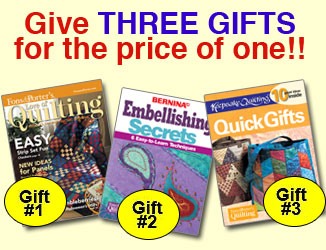 #1. Fons & Porter's Love of Quilting
Each issue is filled with must-do projects, helpful tips, and the newest techniques from America's favorite quilting experts.
#2. Embellishing Secrets
The sewing professionals at Bernina® with Marianne Fons and Liz Porter bring you this exclusive booklet of embellishing secrets! This essential how-to guide will give you hints from the pros so you can use embellishments to create stunning quilts, bags, and wearables. Learn to use couching, decorative stitches, and surface texture to take your quilts from ordinary to extraordinary! Remember, we'll send this booklet FREE with your Love of Quilting subscription!
#3. Quick Gifts
This fun-filled booklet contains 10 SUPER quick-and-easy gift ideas you can stitch in no time. The experts at Keepsake Quilting™ teamed up with Marianne Fons and Liz Porter to bring you some of their favorite patterns for quilts, bags, and table toppers, all perfect gifts for any occasion. Each project contains color photos, diagrams, and easy-to-follow instructions to guide you through assembly. We'll give you tips and easy techniques to help you achieve success. Best of all—this booklet is FREE with your subscription!
Supplies of the two FREE booklets are limited!

Click here to order a magazine gift subscription (includes booklets!)
Click here to subscribe to Love of Quilting magazine (includes booklets!)
Click here to renew your subscription (includes booklets!)
This email was sent by: %%Member_Busname%%
%%Member_Addr%% %%Member_City%%, %%Member_State%%, %%Member_PostalCode%%, %%Member_Country%%