Just add a few blocks for those extra big babies
We hope you've had a chance to pick up our latest issue of Baby Quilts – don't let the name fool you though. These designs can be easily tweaked in color and size. They could even be tailor-made to fit the most rugged of couch potatoes during Monday Night Football.

One fun example would be the versatile Ziggity Zaggity pattern that could be toned down with soothing pastel shades of parallelograms, perfect for any nursery; or kicked way up for the teenager's room in bold and contrasting tones. Or, try a fun challenge by keeping the whole design in tight monochromatic shades.

Practice your foundation piecing with the adorable Little Lambs Eat Ivy quilt, and the whimsical Teague's Turtles design; or just settle in and have some fun making the yo-yos that embellish the wonderful Buggy Days design.

We have been looking forward to sharing some of our favorites from last year's Baby Quilt contest – let us know what you think. We, of course, think they are all winners!


Don't forget to stop by www.ShopFonsandPorter.com and check out some great newsletter subscriber only bargains.
Earthtones Bouquet - Check out this cute mini quilt that comes in a quick and easy kit form.
Regularly $65.00 on sale now for $52.00 with coupon code FPEARTH.

Sweetheart Garden - Another fun project would be this pretty little floral quilt kit.
Regularly $57.00 on sale now for $45.00 with coupon code FPSWEET.

FP Blunt Scissors - And, at this great price, why not stuff everyone's stocking with this handy little gift?
Regularly $10.99 on sale now for $8.79 with coupon code FPBLSCI.
Event announcement:

Marianne Fons will be the keynote speaker on February 22 for "Quilted Fashions": 400 Years of Quilting (in Williamsburg, VA)with her presentation "Why We Quilt". This symposium brings together nationwide experts for two days of illustrated lectures on quilts and quilted clothing from 1600 to the present. Optional workshops and special behind-the-scenes tours give participants the opportunity to learn a new technique or see museum artifacts close up.

For more information about conferences, forums, and workshops, call 1-800-603-0948, visit www.history.org/conted, or click here for a brochure for the event.


BROCHURE LINK: http://www.fonsandporter.com/userdocs/fonsandporter/articles/QuiltConf_WebPDF.pdf
A quilting widower of sorts by Robert McKnight of Zionsville, IN

"I am Robert McKnight, a quilting widower like some women are football widows. My wife, Patricia and her close friend Barb Maxson, head up a blanket ministry for our Zionsville United Methodist Church. They quilt blankets for new babies baptized at our church and also for infirmed and needy persons regardless of church affiliation or location. I'm sure a lot of churches have such ministries, however, these ladies have taken it one step further. They have recently taken over a three-bedroom country home and converted it into a quilting center for their ministry. Their mission work has become so extensive, it allows them to send blankets not only to local church members, but to persons all over the United States in special need of a prayed upon quilt. A few quilts have even been sent internationally.

My wife and I were recently at your store in Winterset. And yes, I very much appreciated the bench out front. And also the bench just down the street by the coffee shop, they were nice places to wait and chew the fat with some of your local residents. We were on what turned out to be an 8,000 mile camping trip through the Northwestern US. We travel prepared, with sewing machines in the van and camper, and would probably be taking the longarm machine if she could fit it into our 17-ft. camper. Pat's sewing machines have sewn quilts on picnic tables in campgrounds all over the US. I've found that we can pass by about everything on the road, except a quilt/fabric shop. I've lost count of how many shops we have stopped at to buy more fabric, both for personal use and for the blanket ministry."
- Robert

P.S. I just heard Pat talking to a friend and they are making arrangements for a quilt for a young girl who lost her mother two years ago and now her father just passed. Pat's already out the door heading to the quilt cottage.
For our sons by Kay Tomlinson of Katy, TX




"Our sons, Zane and Keith, were grown and out of the nest when I took my first quilting class. Before I started anything else, I wanted to make a special keepsake quilt for each of them. And, since the 1970s, I had been saving their Dad's dress shirts, so I had plenty of fabric to start with. And then, I saw the perfect pattern in your book, 'Quick Quilts from the Heart, for the Love of Quilting.'



The 'shirts' in both of my sons' quilts are made from their Dad's old shirts. The tie fabric is new – their dad picked out all of the new fabric and matched it to each of the shirts. I had each of the boys pick their own border fabrics for their quilts. I machine pieced, hand appliquéd, and hand quilted both quilts. Now, Zane and Keith each have a little bit of both of their parents in their keepsake quilts."
- Kay
PS: Our technical team wants to let you know about an update that may affect your ability to play back video content at full-screen. Flash released an update recently which disables the full-screen playback feature in our videos. We're looking into the solution now and hope to resolve the issue soon—we apologize for any inconvenience. If you have not yet installed this non-critical update and wish to continue viewing in full screen as we resolve the issue, we kindly request you not install this update. Thanks!



Give a Gift Subscription to Love of Quilting Magazine
A great gift that quilters love is a gift subscription to Love of Quilting magazine. Did you know that when you give a gift subscription, you are actually giving three different gifts?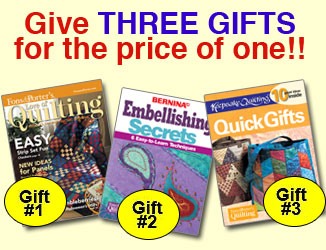 #1. Fons & Porter's Love of Quilting
Each issue is filled with must-do projects, helpful tips, and the newest techniques from America's favorite quilting experts.

#2. Embellishing Secrets
The sewing professionals at Bernina® with Marianne Fons and Liz Porter bring you this exclusive booklet of embellishing secrets! This essential how-to guide will give you hints from the pros so you can use embellishments to create stunning quilts, bags, and wearables. Learn to use couching, decorative stitches, and surface texture to take your quilts from ordinary to extraordinary! Remember, we'll send this booklet FREE with your Love of Quilting subscription!

#3. Quick Gifts
This fun-filled booklet contains 10 SUPER quick-and-easy gift ideas you can stitch in no time. The experts at Keepsake Quilting™ teamed up with Marianne Fons and Liz Porter to bring you some of their favorite patterns for quilts, bags, and table toppers, all perfect gifts for any occasion. Each project contains color photos, diagrams, and easy-to-follow instructions to guide you through assembly. We'll give you tips and easy techniques to help you achieve success. Best of all—this booklet is FREE with your subscription!
Supplies of the two FREE booklets are limited!


Click here to order a magazine gift subscription (includes booklets!)
Click here to subscribe to Love of Quilting magazine (includes booklets!)
Click here to renew your subscription (includes booklets!)

This email was sent by: %%Member_Busname%%
%%Member_Addr%% %%Member_City%%, %%Member_State%%, %%Member_PostalCode%%, %%Member_Country%%