From me to you
It's those little touches that can really make a gift special, and in quilting, there are simple ways we can help personalize a quilt as a gift for just about anyone.

Typically when quilting, we're drawn to a selection of fabric because of its color, texture or theme; but, occasionally we'll come across some fabric that simply reminds us of someone special, or a pattern may jump out at us that reflects a certain passion of a loved one.

Thus, the perfect gift evolves … we just have to follow through, adding any other special touches that may fit. Perhaps an appliquéd favorite photo or a fabric swatch of a loved-one's favorite and worn-out robe, anything goes as long as evokes a smile.

Always remember to sign your name, whether it is inscribed into the quilting, or lovingly signed on the back. It's undisputable … a personalized quilt is always going to be the best present under the tree.


Don't forget to stop by www.ShopFonsandPorter.com and check out some great newsletter subscriber only bargains.
Fons & Porter Blunt Tip Scissors, lightweight, high-quality scissors. Small size is great for travel!
Regularly $10.99 on sale now for $8.79 with coupon code FPBLSCI.

Sweetheart Garden Kit, this bright, fun, and contemporary quilt is a great afternoon project!
Regularly $57.00 on sale now for $45.00 with coupon code FPSWEET.
Crossing the quilted paths by Sigrid Strand Bryant of Anchorage, Alaska

"As any reader of your magazine, or anyone who has watched your DVD's, I feel I know you all on a first name basis. After my story, you will probably recognize me as a cohort in quilts.
My husband is now retired and we spend our winters 'Snowbirding' in the 'Lower Forty-Eight' – that's Alaska-speak for the continental U.S. I carry a sewing machine and fabric in the motor home so I won't get bored. Usually, I am gathering projects over the summer to take along. When I saw the Red Sky quilt pattern in your June, 2007 issue, I knew I would have to make it for my husband, Leonard, a former Navy man.

I gathered the necessary fabrics from my sewing room (one of my challenges lately is to make quilts from my stash – I have lots to work with). And soon, I had plenty of fabric strips to make this the quilt.

Mr. Retirement has found a new passion of his own – pheasant hunting. In early October, he and his friend Jim were off to hunt birds in South Dakota. Jim is another old Navy man, in fact, they met on board ship over fifty years ago. Now they have time to spend together again, it's great.

So now, with Leonard gone hunting, I had time to sew this special project. I was ready with my strips and cut that fabric into triangles just about as soon as the guys were out the door. The thing about cutting triangles, I find, is that I never know when to stop. I finished the Red Sails quilt top and found I had almost as many triangles left over as what I started with, or so it seemed! I put them in paper grocery bags – I just couldn't bear to throw them out, and stored them away in a closet. That's not such an easy thing though since space is at a premium in the motor home. And somehow, they seemed to pop out every time I opened that closet door. Could they be multiplying in the dark? I was talking to a friend who also quilts, and she told me to put the bags in the freezer so they would quit that!



I finally decided the only thing to do with all those piles of leftover triangles was to use them up in yet another quilt. I finally found the perfect pattern that used nothing but triangles, a quilt I called 'Life's Many Paths'. And for some unknown reason, I chose to accent this quilt with some hot pink fabric I had in my stash.

I sent both of the finished quilt tops off to be quilted and finally quit worrying about triangles. Lana Corcoran quilted both of them beautifully and we were all pleased with the results. But what was I going to do with this 'Paths' quilt? Then, I found out my daughter Anna was raising money for her third 3-Day 60 mile Breast Cancer walk. When she saw that quilt and its little splash of pink, she asked if she could use it to raise money for her walk. Each walker must either give money or get sponsorship of $2,000 or more, to participate in the walk. Anna felt 'Paths' was perfect. She gave a ticket to everyone who donated to her walk. She walked in September 2008 in San Francisco, and raised a lot more than the necessary two thousand dollars. It's a very grueling event. They walk 20 miles a day for three days, camping out in tents each night. There is a tremendous support group that provides meals, medical support, and anything else that is needed. The support group is formed of husbands and friends and anyone who can help. As the walkers travel the route, people line the pathways holding up signs of remembrance for those lost to breast cancer, as well as signs of encouragement. Anna said, "as we walk the route, it seems we are crying the whole way, but, it is a happy cry."
After the walk was over, Anna drew the name of a lady who works at the University of Alaska, to be the winner of the quilt. When Anna gave the quilt to her, the woman broke into tears. She is one of the few left in her family who has not had breast cancer.

My intention was just to share the silly story of 'too many triangles', but, it seems my story has evolved into one of friendship and common experience as women and quilters. Thanks for letting me share."
PS: Our technical team wants to let you know about an update that may affect your ability to play back video content at full-screen. Flash released an update recently which disables the full-screen playback feature in our videos. We're looking into the solution now and hope to resolve the issue soon—we apologize for any inconvenience. If you have not yet installed this non-critical update and wish to continue viewing in full screen as we resolve the issue, we kindly request you not install this update. Thanks!


Give a Gift Subscription to Love of Quilting Magazine
A great gift that quilters love is a gift subscription to Love of Quilting magazine. Did you know that when you give a gift subscription, you are actually giving three different gifts?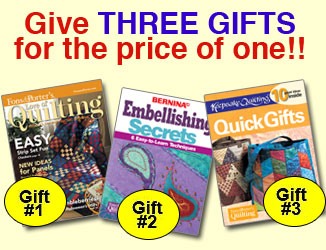 #1. Fons & Porter's Love of Quilting
Each issue is filled with must-do projects, helpful tips, and the newest techniques from America's favorite quilting experts.
#2. Embellishing Secrets
The sewing professionals at Bernina® with Marianne Fons and Liz Porter bring you this exclusive booklet of embellishing secrets! This essential how-to guide will give you hints from the pros so you can use embellishments to create stunning quilts, bags, and wearables. Learn to use couching, decorative stitches, and surface texture to take your quilts from ordinary to extraordinary! Remember, we'll send this booklet FREE with your Love of Quilting subscription!
#3. Quick Gifts
This fun-filled booklet contains 10 SUPER quick-and-easy gift ideas you can stitch in no time. The experts at Keepsake Quilting™ teamed up with Marianne Fons and Liz Porter to bring you some of their favorite patterns for quilts, bags, and table toppers, all perfect gifts for any occasion. Each project contains color photos, diagrams, and easy-to-follow instructions to guide you through assembly. We'll give you tips and easy techniques to help you achieve success. Best of all—this booklet is FREE with your subscription!
Supplies of the two FREE booklets are limited!

Click here to order a magazine gift subscription (includes booklets!)
Click here to subscribe to Love of Quilting magazine (includes booklets!)
Click here to renew your subscription (includes booklets!)
This email was sent by: %%Member_Busname%%
%%Member_Addr%% %%Member_City%%, %%Member_State%%, %%Member_PostalCode%%, %%Member_Country%%