An unstable economy can bring out the best in us all
During the past several weeks of stock market woes, quilters appear to be weathering the storm just a tad better than most.

We can only surmise that this show of resiliency comes from the learned wisdom that with our own hands, we can provide. We know that if we have to garden to eat, so be it – we'll plow up the front yard if we have to. If we have to sew to be warm, well, we've obviously been doing that all along anyway, or at least since some clever caveman or woman figured out how to punch a tiny hole in a sliver of ivory, thus the birth of the first sewing needle.

And having to pinch all our pennies just means that we may have to focus on actually using some of our stash now—we just need some creative new projects to start on.

Luckily, our special Baby Quilts issue that comes out in December is full of a wide variety of patterns that should fit nicely into anyone's project schedule. You'll find these exciting new designs are fun and versatile enough to blend with any nursery theme, or even college dorm, or maybe just a great new lap quilt to brighten a loved one's day.
As always, remember to stop by www.ShopFonsandPorter.com and check out some great newsletter subscriber only bargains.
When We Go A Camping Sleeping Bag, a simple project that is great for those "outdoorsmen" who prefer a campout in the basement as opposed to the backyard. Great for sleepovers!
Regularly $71.00 on sale now for $56.00 with coupon code FPCAMP.

Fat Quarter Box, this handy box folds flat for easy storage when not in use. Stack boxes on top of each other for an attractive way to store the fat quarters in your stash.
Regularly $15.99 on sale now for $12.79 with coupon code FPQBOX.
One thing led to another by Dottie Reed

"Attached is a copy and a close-up of "Geometric Pursuit" - a quilt made from an idea I got from a Fons and Porter program that aired on T.V. about two months ago. The idea is totally foreign to the types of quilts I usually make, but I had only minimally used the decorative stitches in my machine and had never done raw edge appliqué or used iron-on fusibles. I also almost never use solid colors any more and had a lot of those fabrics lying around, so I thought I would do some experimental practicing. It was so much fun thinking of different ways to use and combine geometric shapes that the Energizer Bunny took over, and suddenly I had 33 blocks - and was at least temporarily out of ideas for more combinations. So, I did the male and female block, followed by the heart block. I intended to have the latter two facing each other with the heart in the middle, but I messed up and didn't want to reverse sew and redo. So, I decided to try to put a face on the female using freehand embroidery. I then got carried away trying other freehand embroidery and wound up putting small designs in several of the other blocks. I quilted the seams with a decorative stitch (another first) and stippled the insides of the squares.

"I wanted to thank Ms. Fons and Ms. Porter for the wonderful inspiration they gave me. They really encouraged me to step outside of my comfort zone.



I've included a picture of the finished quilt. The darn thing really is square and won't hang straight... but in spite of its imperfections, it has become my favorite quilt.

"Hope you enjoy seeing it."
You Got Mail
Subject: Love of Knitting

Just received my S/O Love of Quilting magazine. I love your magazine…so much that everything stops in this house. I was processing my dill pickles and forgot to do the timer. Then I read about your new magazine! Yea! I will never get anything done but I am really looking forward to this new magazine Love of Knitting. Fabric and yarn are my stabilizers. There is very little that I can't handle when I immerse myself in prayer and these arts. Better than any drugs to "calm" as they "renew" me. Thanks for being part of these joyful arts. I know I will love the new magazine.
- from Susan Peterson                                                                                                         
Happy Quilting!
Fons & Porter's Love of Quilting

PS: Our technical team wants to let you know about an update that may affect your ability to play back video content at full-screen. Flash released an update last week which disables the full-screen playback feature in our videos. We're looking into the solution now and hope to resolve the issue soon—we apologize for any inconvenience. If you have not yet installed this non-critical update and wish to continue viewing in full screen as we resolve the issue, we kindly request you not install this update. Thanks!


Give a Gift Subscription to Love of Quilting Magazine
A great gift that quilters love is a gift subscription to Love of Quilting magazine. Did you know that when you give a gift subscription, you are actually giving three different gifts?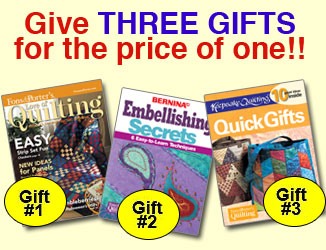 #1. Fons & Porter's Love of Quilting
Each issue is filled with must-do projects, helpful tips, and the newest techniques from America's favorite quilting experts.
#2. Embellishing Secrets
The sewing professionals at Bernina® with Marianne Fons and Liz Porter bring you this exclusive booklet of embellishing secrets! This essential how-to guide will give you hints from the pros so you can use embellishments to create stunning quilts, bags, and wearables. Learn to use couching, decorative stitches, and surface texture to take your quilts from ordinary to extraordinary! Remember, we'll send this booklet FREE with your Love of Quilting subscription!
#3. Quick Gifts
This fun-filled booklet contains 10 SUPER quick-and-easy gift ideas you can stitch in no time. The experts at Keepsake Quilting™ teamed up with Marianne Fons and Liz Porter to bring you some of their favorite patterns for quilts, bags, and table toppers, all perfect gifts for any occasion. Each project contains color photos, diagrams, and easy-to-follow instructions to guide you through assembly. We'll give you tips and easy techniques to help you achieve success. Best of all—this booklet is FREE with your subscription!
Supplies of the two FREE booklets are limited!

Click here to order a magazine gift subscription (includes booklets!)
Click here to subscribe to Love of Quilting magazine (includes booklets!)
Click here to renew your subscription (includes booklets!)
This email was sent by: %%Member_Busname%%
%%Member_Addr%% %%Member_City%%, %%Member_State%%, %%Member_PostalCode%%, %%Member_Country%%