Jack Frost can be a great incentive to step up the pace
It's amazing how quickly fall sneaks up on us bringing with it a whole new set of seasonal priorities, i.e.: rake the leaves; drag the lawn furniture into storage; get the snowblower out of storage … But, then you step outside and actually confront Jack Frost face to face, (usually he's splat all over your car windows and of course that handy, dandy windshield scraper has had a whole year now to mysteriously disappear).

As you're scraping your windows now with that old CD case, you suddenly remember your vow to see to it that Jack Frost won't be nipping at any of your loved one's cold toes, not this year.

It's time to change your priorities—the only leaves and snow you'll be touching from here on out are those printed on some of the great new fall and winter fabric collections!

And to use up some of that great fabric, watch for our November/December issue which will be on the newsstands in just a few weeks. Starting with Lynette Jenson's beautiful front-cover quilt, this issue is full of some spectacular Christmas Sparkle.
As always, remember to stop by www.ShopFonsandPorter.com and check out some great newsletter subscriber only bargains.
Cutting Mat Bag, a great bag made from the Up in Stitches collection by Fabri-Quilt is just the right size to take your 18" x 24" cutting mat and 24" ruler to class.
Regularly $39.00 on sale now for $30.00 with coupon code FPMAT.

Summer Bouquet, pieced noesgays and floral vines adorn this quilt finished with a scalloped edge.
Regularly $121.00 on sale now for $96.00 with coupon code BOUQ.

The Fons & Porter Pin Grabber magnetic pin cushion will hold your pins neatly while you sew.
Regularly $15.50 on sale now for $10.00 with coupon code FPPGRAB.
The LottieElmira Quilters visit Fons & Porter Quilt Supply
written by Esther Collins, Trip Coordinator

"When we first started traveling together, we did not have a name. They would ask, 'Well, what is the name of your group?' I spent some time thinking about this question. Memories of my grandmothers filled my thoughts, and I decided to name the group after both of them: Lottie and Elmira.

"My grandmothers worked very hard during their lifetime and never had the opportunity to sit back, relax, and enjoy life. They were never able to 'live their dreams.' I know my grandmothers are smiling down on us, and love that we are the LottieElmira Quilters. I am sure they would have been members of our group, given the chance, not because we share their names, but because of the spirit of the group. We enjoy our trips and have so much fun. It is truly a privilege to call ourselves LottieElmira Quilters.

In April of 2007, the LottieElmira Quilters began traveling to various quilt shows, quilt shops and other quilt related events. We chartered our own bus and set out traveling high and low to 'touch and buy' fabrics. Our first trip was to Chicago and since then we journeyed to Nashville, Tennessee; Flint, Michigan; Bettsville, Ohio and a number of other interesting places.

Several of our members have been quilting since childhood and many learned the craft from their mothers, grandmothers and great grandmothers. Some of the LottieElmira Quilters are retired from corporate America and government agencies, and many are educators. We are fabric artists, hand quilters, and machine quilters. Various members exhibited and have won ribbons, and were featured in publications and books. One of our goals is to expose ourselves and others to the different aspects of quilting through education and travel.

This year's big trip was to the AQS Quilt and Expo in Des Moines, Iowa. One of the highlights of the trip was visiting Fons & Porter Quilt Supply in Winterset, Iowa. The LottieElmira Quilters had the honor of meeting the Divas of quilting, Marianne and Liz. We left there and went to the Fons & Porter Warehouse Sale, a quilters 'heaven' where we were seduced by 8,000 yards of fabric, we of course purchased more fabric.

Our members belong to several quilt guilds and groups in the metro Detroit area. We also produce an annual quilt show. For more information about the LottieElmira Quilters, please contact Trip Coordinator, Esther Collins at quiltnmomma1@yahoo.com.
Happy Quilting!
Fons & Porter's Love of Quilting

PS: our technical team wants to let you know about an update that may affect your ability to playback video content at full-screen. Flash released an update last week which disables the full-screen playback feature in our videos. We're looking into the solution now and hope to resolve the issue soon—we apologize for any inconvenience. If you have not yet installed this non-critical update and wish to continue viewing in full screen as we resolve the issue, we kindly request you not install this update. Thanks!


Give a Gift Subscription to Love of Quilting Magazine
A great gift that quilters love is a gift subscription to Love of Quilting magazine. Did you know that when you give a gift subscription, you are actually giving three different gifts?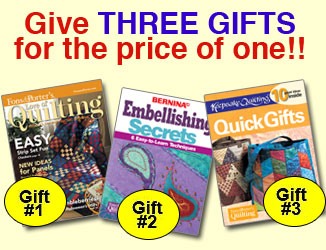 #1. Fons & Porter's Love of Quilting
Each issue is filled with must-do projects, helpful tips, and the newest techniques from America's favorite quilting experts.
#2. Embellishing Secrets
The sewing professionals at Bernina® with Marianne Fons and Liz Porter bring you this exclusive booklet of embellishing secrets! This essential how-to guide will give you hints from the pros so you can use embellishments to create stunning quilts, bags, and wearables. Learn to use couching, decorative stitches, and surface texture to take your quilts from ordinary to extraordinary! Remember, we'll send this booklet FREE with your Love of Quilting subscription!
#3. Quick Gifts
This fun-filled booklet contains 10 SUPER quick-and-easy gift ideas you can stitch in no time. The experts at Keepsake Quilting™ teamed up with Marianne Fons and Liz Porter to bring you some of their favorite patterns for quilts, bags, and table toppers, all perfect gifts for any occasion. Each project contains color photos, diagrams, and easy-to-follow instructions to guide you through assembly. We'll give you tips and easy techniques to help you achieve success. Best of all—this booklet is FREE with your subscription!
Supplies of the two FREE booklets are limited!

Click here to order a magazine gift subscription (includes booklets!)
Click here to subscribe to Love of Quilting magazine (includes booklets!)
Click here to renew your subscription (includes booklets!)
This email was sent by: %%Member_Busname%%
%%Member_Addr%% %%Member_City%%, %%Member_State%%, %%Member_PostalCode%%, %%Member_Country%%