Define quilter … ?
That's easy, a quilter is a 'gift'aholic. Since an individual can only use so many quilts in a lifetime, it's obvious that the urge to even take up quilting is likely just to satisfy a need to 'give'.

Knowing that most of what we are going to make will be given away, fortifies us with zillions of valid reasons to build an endless stash - we must be prepared - graduations and weddings are just around the corner, and baby showers and birthdays, and holidays, and … how will our sewing machines ever keep up?

If you're getting low on ideas, you're sure to find plenty of incentive in our latest issue of Easy Quilts. This winter issue is full of exciting new projects that would make quick and easy gifts for several on your list.

You'll find patterns like the beautiful Diagonal Nine Patch in warm and nostalgic tones; or Cosmos in colors incredibly bold and striking; or the fun and playful panel quilts like Nuts & Robolts and Yogi & Boo Boo. And, even if you have someone on your list who is a little on the 'wild' side, just turn to page 62 - the Safari design is sure to tame any beast.
As always, remember to stop by www.ShopFonsandPorter.com and check out some great newsletter subscriber only bargains.
Baby Star kit, is one of the adorable baby quilts from last year's contest.
Regularly $42.00 on sale now for $33.00 with coupon code BSTAR.

Between the Lines kit, is a great quilt in colors in bold colors.
Regularly $174.00 on sale now for $155.00 with coupon code BLINES.

Scissors, these are the 5 1/2" pair, a perfect size for any project.
Regularly $15.99 on sale now for $10.99 with coupon code SCI5.
MARK YOUR CALENDER!
Don't miss Marianne Fons' speaking engagement at the Georgia Quilt Show on 10/15. Details for the event can be found at http://www.georgiaquiltshow.com/
Play it in the key of G. Submitted by Donna Sawyer.

This year, the South Carolina Quilt Guild, Piecemakers, learned that one of their founding members has been diagnosed with ALS, Lou Gehrig's Disease.

Janet Nelson is a nationally known quilter whose specialty is embellishing. Janet exhibited two pieces in the Road to California Show; several pieces in the Myrtle Beach, S.C., Mancuso Show; she has won Best in Show for her home-town's own quilt guild show; the has won the Creativity Award for Quilters of S.C., and won 1st place in the Bernina University Challenge.

"Janet has been an inspiration to all of us and we wanted to honor her in a special way," explained fellow guild member Donna Sawyer. "Thus the plan began. We decided to have a Janet Nelson Day and invite special people in her life as well as the members of the two quilt guilds that she helped found. Her sisters, her children and even her husband were in on our plot. After a day of shopping for, what else, fabric, Janet went to what she thought was a dinner with her family. A local Mexican restaurant had conspired with us to surprise her and had reserved a back room for the party."

Janet was to be crowned Queen of Quilting. Since Janet is famous for embellishments, everyone was to bring an embellishment to pin on her royal robe. A child's light-up party crown and flashing star scepter completed the elaborate ensemble. Donna also wrote a very entertaining song to honor Janet during the coronation. Set to the tune of Take Me Out to the Ball Game.

Take Me Out to the Quilt Shop.

Take me out to the Quilt Shop.
Take me out to the Mall.
Buy me some Moda and a Stack-N-Whack.
I don't care if I never get back.
I will shop, shop, shop for the new quilt.
If it takes all day, that's a shame.
For it's one, two, three yards and more at the old quilt shop!

After the song, everyone brought their embellishments out and pinned them on Janet's robe and gave her a big hug.
"The song has become somewhat of a tradition now with our guild," explained Donna. "We begin every guild meeting with it. It helps get us settled and called to order. I understand that it will also be used at the Quilters of S.C. meeting this fall."
Special note: Donna and the rest of the Piecemakers would love for anyone to share this catchy little song, but to always let it stand as a reminder of Janet and the ALS Disease as you sing.
Happy Quilting!
Fons & Porter's Love of Quilting




Give a Gift Subscription to Love of Quilting Magazine
A great gift that quilters love is a gift subscription to Love of Quilting magazine. Did you know that when you give a gift subscription, you are actually giving three different gifts?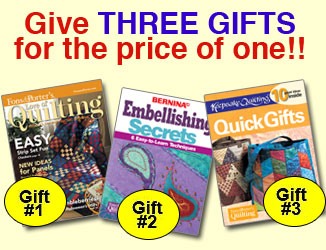 #1. Fons & Porter's Love of Quilting
Each issue is filled with must-do projects, helpful tips, and the newest techniques from America's favorite quilting experts.
#2. Embellishing Secrets
The sewing professionals at Bernina® with Marianne Fons and Liz Porter bring you this exclusive booklet of embellishing secrets! This essential how-to guide will give you hints from the pros so you can use embellishments to create stunning quilts, bags, and wearables. Learn to use couching, decorative stitches, and surface texture to take your quilts from ordinary to extraordinary! Remember, we'll send this booklet FREE with your Love of Quilting subscription!
#3. Quick Gifts
This fun-filled booklet contains 10 SUPER quick-and-easy gift ideas you can stitch in no time. The experts at Keepsake Quilting™ teamed up with Marianne Fons and Liz Porter to bring you some of their favorite patterns for quilts, bags, and table toppers, all perfect gifts for any occasion. Each project contains color photos, diagrams, and easy-to-follow instructions to guide you through assembly. We'll give you tips and easy techniques to help you achieve success. Best of all—this booklet is FREE with your subscription!
Supplies of the two FREE booklets are limited!

Click here to order a magazine gift subscription (includes booklets!)
Click here to subscribe to Love of Quilting magazine (includes booklets!)
Click here to renew your subscription (includes booklets!)
This email was sent by: %%Member_Busname%%
%%Member_Addr%% %%Member_City%%, %%Member_State%%, %%Member_PostalCode%%, %%Member_Country%%