It's Quilt Show season!
For several months now, Quilt Guilds across the United States have been gearing up for some highly anticipated annual fall shows. And likely, there are thousands of excited guild members out there right now burning the midnight oil to put the final touches on their entries.

The buzz around Fons & Porter is even more exciting this fall since the AQS show is coming to our home state of Iowa, more precisely to Des Moines on October 8-11.

In addition to this 'big show', we look forward to many other local guild shows in the area, including the Des Moines Area Quilt Guild, as well as our hometown Madison County Covered Bridge Quilter's Show scheduled for October 11-13. If you are in Des Moines for the show, please make sure to take the 40 minute scenic drive to Winterset where we will have Marianne Fons and Liz Porter in the shop on Friday, October 10th and Jodie Davis signing books October 9th and 11th. Also, make sure you don't miss our HUGE warehouse sale with all cotton fabrics $4/yard.

Whether you can make it to one or several shows this fall, your efforts will always be rewarded by new inspiration and ideas, as well as a host of new quilting friendships.
Don't forget to visit www.shopfonsandporter.com for some great newsletter-only savings!
What better surprise for yourself than a Batik Grab Bag? 20 randombly selected batik fat quarters.
Regularly $50.00 on sale now for $37.00 with coupon code BGBAG.

Or get the Shirting Grab Bag! 12 randomly chosen shirting fat quarters.
Regularly $27.00 on sale now for $20.00 with coupon code SGBAG.

Sweet Luv - Cuddle up with this cute quilt from Maywood Studio's Bunny Luv and Woolies Light fabric collections.
Regularly $65.00 on sale now for $52.00 with coupon code SWEET.

Printed Treasures Fabric Sheets - Use these prepared fabric sheets in your ink jet printer. Five sheets per package.
Regularly $17.99 on sale now for $14.39 with coupon code SHEETS.
Found treasure. Submitted by Faythe Ann Jaroska

During this last Labor Day weekend, Faythe Jaroska of Norfolk, Nebraska, had the chance to visit with Marianne Fons and the staff at Fons & Porter's Love of Quilting shop in Winterset, Iowa. Faythe was on a knowledge-seeking mission—she carried with her a special treasure and she needed some expert advice. Found hidden deep inside an old trunk purchased by her father decades ago at an auction, was a stunning old quilt that probably holds as many memories as it has hand-sewn stitches (and that is a lot of stitches—each 16-inch block was exquisitely hand quilted with 14 stitches per inch).

The quilt features the pomegranate design framed in a swag bird border, and was signed on the back: John Giltner, Bourbon County, Kentucky, 1860. This is the only clue as to the origin of this pre-civil war creation. According to Faythe, some speculation includes that the quality of the fabric appears to suggest an affluent family, possibly done by a slave for a member of the master's family. Or, possibly the quilt was made for a 'coming out' gift for a son, something that was done for boys as well as girls as debutants in those times. Or, perhaps John Giltner was the quilter himself, something that was not nearly as uncommon as we have been led to believe. Sadly, most of the history of this quilt will likely remain a mystery forever, but what fun it is to view something so wonderfully crafted.

Faythe plans to continue to share this antique quilt at various shows and quilt guilds around Nebraska. She is a member of the Country Piecemakers Quilt Guild of Norfolk, Nebraska and loves to make quilts. "It is with great pleasure that I have the privilege to own such a piece of history," she said.

Faythe is also the Administrative Assistant of the 'Orphan Grain Train', a humanitarian organization that ships thousands of quilts all over the United States, and the world. To learn more about this great project, visit http://www.ogt.org
Happy Quilting!
Fons & Porter's Love of Quilting




Give a Gift Subscription to Love of Quilting Magazine
A great gift that quilters love is a gift subscription to Love of Quilting magazine. Did you know that when you give a gift subscription, you are actually giving three different gifts?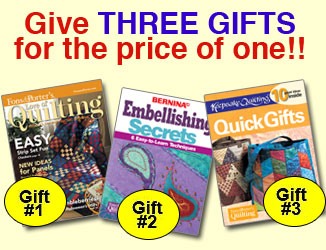 #1. Fons & Porter's Love of Quilting
Each issue is filled with must-do projects, helpful tips, and the newest techniques from America's favorite quilting experts.
#2. Embellishing Secrets
The sewing professionals at Bernina® with Marianne Fons and Liz Porter bring you this exclusive booklet of embellishing secrets! This essential how-to guide will give you hints from the pros so you can use embellishments to create stunning quilts, bags, and wearables. Learn to use couching, decorative stitches, and surface texture to take your quilts from ordinary to extraordinary! Remember, we'll send this booklet FREE with your Love of Quilting subscription!
#3. Quick Gifts
This fun-filled booklet contains 10 SUPER quick-and-easy gift ideas you can stitch in no time. The experts at Keepsake Quilting™ teamed up with Marianne Fons and Liz Porter to bring you some of their favorite patterns for quilts, bags, and table toppers, all perfect gifts for any occasion. Each project contains color photos, diagrams, and easy-to-follow instructions to guide you through assembly. We'll give you tips and easy techniques to help you achieve success. Best of all—this booklet is FREE with your subscription!
Supplies of the two FREE booklets are limited!

Click here to order a magazine gift subscription (includes booklets!)
Click here to subscribe to Love of Quilting magazine (includes booklets!)
Click here to renew your subscription (includes booklets!)
This email was sent by: %%Member_Busname%%
%%Member_Addr%% %%Member_City%%, %%Member_State%%, %%Member_PostalCode%%, %%Member_Country%%