Staying ahead of the Christmas rush is always a great idea, it's not possible, but it is a great idea (let's face it, there will always be too much to do and too little time to get it done)!

So, over the next few months, we'll try to help a little by providing some unique gift ideas for your favorite quilter and/or seamstress. One of our recent favorites is a clever handcrafted thread holder by Paul Boyum, see page 10 of the September/October Fons & Porter's Love of Quilting.

Or, flip to page 62 and grab some fabric – here's a way for you to make a simple or inexpensive gift a great gift by tucking it inside a homemade, reversible Market Tote.

Watch for our next issue of Easy Quilts due on newsstands October 1 (Quilter's Club of America members will receive yours in the mail weeks before that). This winter issue of Easy Quilts has some great ideas including sweatshirt projects, versatile pillow designs, and clever little gift card pockets that would make great stocking stuffers.

If fall goes as quickly as the summer did, we'll soon be thawing out that turkey!

Please take a minute to complete our latest survey; one lucky quilter will win a free jellyroll fabric pack!
Don't forget to visit www.shopfonsandporter.com for some great newsletter-only savings!

What better surprise for yourself than a Batik Grab Bag? 20 randombly selected batik fat quarters.
Regularly $50.00 on sale now for $37.00 with coupon code BGBAG.

Or get the Shirting Grab Bag! 12 randomly chosen shirting fat quarters.
Regularly $27.00 on sale now for $20.00 with coupon code SGBAG.
First quilt was definitely not a 'flop'. Submitted by Paula Gibson.
"When I saw the Flip Flop quilt in your May/June 08 issue, I knew it was the perfect quilt for my granddaughter and me to make together. Kasey is 10 years old and did a great deal of the sewing for this quilt. She picked out all the flip flop colors from my stash and she did a great job. I am hopeful this first attempt at a quilt will have her bitten by the quilting bug. Thank you for your magazine. I love it!!"
Together we made memories. Submitted by Janet Smith.
Note: Janet had already ordered from us the Bargello pattern by mail but realized it was going to arrive too late for her visiting grandchildren, so Natalie in customer service worked out a way to get the pattern to Janet just in time.

"I want to thank you so much for emailing me the Bargello pattern. It is late Tuesday now and my grandchildren have already boarded the bus and are gone for their 15 hour ride home to North Florida. We had a wonderful visit. The pattern arrived in the mail yesterday, we would never have been able to have even started on it. However, as you can see, your emailed pattern arrived in plenty of time for us to accomplish much. We worked on it all weekend, rotating from cutting table, to the iron, to sewing machine and back to the iron and then back to the cutting board. IT WAS A ROUND ROBIN full of laughs and giggles. (Our connection to a ROUND ROBIN was when their mothers where teens and they raised and showed milk goats. At the county fair the top 8 contenders for grand champion brought their goats together at milk time and started to milk their own goats. Then a whistle would blow and they would move one goat to the right with their bucket and begin to milk this new, strange goat. The whistle would blow every 30 seconds. At the end, the one with the most milk in their bucket, after all 8 goats, would be the winner. As you can imagine by the time the second whistle blew the kids and goats were already in a frenzy…it was hysterical to watch). And working on these quilts with all my grandchildren together like this was just as fun and hysterical, everyone was in a great mood.

This picture was taken Monday night as they were starting to pack for their trip home. These are four of the five projects that we made, from left to right…

Mine, made with all oriental fabrics. This one will become a wall hanging for my first quilt instructor. (I am 63-years-old). Courtney, age 14, is a new sewer. She is going to make a lap quilt like the one in progress made by her 18-year-old cousin next to her.

Amanda, 18, VERY FIRST SEWING PROJECT EVER. Imagine how proud we all are of her.

Janet, 16, this is her third quilt project.

We had a ton of fun. We all laughed at Amanda's choice of wild fabrics (you can see the leftovers worked into the strips and borders of her lap quilt). But as you can see it is awesome.

Thank you again Natalie for emailing the pattern so quickly. You must think I am making a big deal over a bit of kindness. But acts of kindness are rare and I wanted you to know the results of YOURS.

We made a memory, as you can see by their ages, and mine, soon they will be going their own way. My health has me home bound so this last week was so special to all of us. Janet was able to finish the border on her baby quilt two hours before she and her sister had to go. It is for her godfather's new baby. With my wonderful PFAFF, she was even able to satin stitch the baby's name at the top: Miah Micah. "
Happy Quilting!
Fons & Porter's Love of Quilting




Give a Gift Subscription to Love of Quilting Magazine
A great gift that quilters love is a gift subscription to Love of Quilting magazine. Did you know that when you give a gift subscription, you are actually giving three different gifts?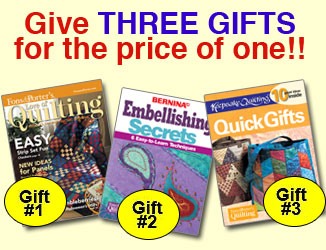 #1. Fons & Porter's Love of Quilting
Each issue is filled with must-do projects, helpful tips, and the newest techniques from America's favorite quilting experts.
#2. Embellishing Secrets
The sewing professionals at Bernina® with Marianne Fons and Liz Porter bring you this exclusive booklet of embellishing secrets! This essential how-to guide will give you hints from the pros so you can use embellishments to create stunning quilts, bags, and wearables. Learn to use couching, decorative stitches, and surface texture to take your quilts from ordinary to extraordinary! Remember, we'll send this booklet FREE with your Love of Quilting subscription!
#3. Quick Gifts
This fun-filled booklet contains 10 SUPER quick-and-easy gift ideas you can stitch in no time. The experts at Keepsake Quilting™ teamed up with Marianne Fons and Liz Porter to bring you some of their favorite patterns for quilts, bags, and table toppers, all perfect gifts for any occasion. Each project contains color photos, diagrams, and easy-to-follow instructions to guide you through assembly. We'll give you tips and easy techniques to help you achieve success. Best of all—this booklet is FREE with your subscription!
Supplies of the two FREE booklets are limited!

Click here to order a magazine gift subscription (includes booklets!)
Click here to subscribe to Love of Quilting magazine (includes booklets!)
Click here to renew your subscription (includes booklets!)
This email was sent by: %%Member_Busname%%
%%Member_Addr%% %%Member_City%%, %%Member_State%%, %%Member_PostalCode%%, %%Member_Country%%