School's back in session and for many of us, that means life slows down a bit and our focus changes from getting kids to summer ballgames and swimming lessons, to concentrating more on what quilt pattern would look best on their new bed.

It's also a great time to start some fun seasonal projects such as 'Fall's Finery', a great table topper pattern you'll find in our September/October issue of Fons & Porter's Love of Quilting.

This new issue is full of new and versatile ideas like the 'Hopscotch' pattern that blends floral pinks and oranges with delicate patterns and stripes and then tops the whole thing off with appliqué shapes in feminine hearts and flowers. Or, if you prefer a more masculine version, you can download the blue version of this quilt pattern at www.FonsandPorter.com/hop-b. You'll find the feminine hearts have now been replaced with whimsical little turtles in a variety of shades of blue and green.

And, if you are up for a real challenge, take a close look at the 'Mariner's in a Pickle' design, the piecing is incredible. We'll even help get you started with some basic instructions on foundation piecing, see Sew Easy: Paper Foundation Piecing at: www.FonsandPorter.com/pfpiecing.

Don't forget to visit www.shopfonsandporter.com for some great newsletter-only savings!

Add Cottage Charm to your table with these placemats. Each kit contains fabric for 2 placemats. Backing included Fabrics used are from Avlyn's Cottage Charm Collection.
Regularly $25.00 on sale now for $20.00 with coupon code CCHARM.

This adorable quilt uses fabrics fom Springs Creative.
Regularly $43.00 on sale now for $34.00 with coupon code BAZZOO.

Perfect gift for quilters - Velveteen pouch included - Blade enclosed in pendant for safe use - Cut thread using any of the notches - 1/8" ribbon can be inserted in ring to hang around neck.
Regularly $19.99 on sale now for $15.99 with coupon code THRDCT.
ďThis one is just for me. Ē submitted by Anne Karp of Balto, MD
"When I saw the ĎDot to Dotí quilt pattern in the Jan/Feb 2007 issue of Fons & Porterís Love of Quilting magazine, I finally knew why I had been collecting all those 1930s fabrics. So I started. I wanted a coverlet for our king size bed so the original 59" x 69" ended up being 90"x 110". I machine pieced the quilt, but all the circles are hand buttonhole stitched, and all the quilting is hand done in the ditch. In the 18-plus years that I have been quilting, I have never kept a quilt for our own bed. I loved this one so much, you can bet it isnít going anywhere! Needlesstosay, I love your magazine. My only complaint is that it isnít a monthly printing. Iím just greedy!"
From a lifelong friendship comes a treasured gift submitted by Anne Thomassen (Louise's sister)
"After a lifelong friendship that began around puberty and the Beatles, Lousie Landry of Myakka City, Florida, and Phyllis Sprout of Mashpee, Massachusetts, brought their friendship and shared love of quilting to life in a quilt for St. Jude Children's Research Hospital. Using the pattern 'Dot to Dot' from the Jan/Feb 2007 issue of Fons & Porter's Love of Quilting magazine, Louise pieced the top together and then shipped it off to Phyllis where she hand quilted it and then mailed it back to Louise to bind and later present to the hospital."
Please take a minute to complete our latest survey; one lucky quilter will win a free jellyroll fabric pack!
Happy Quilting!
Fons & Porter's Love of Quilting




Give a Gift Subscription to Love of Quilting Magazine
A great gift that quilters love is a gift subscription to Love of Quilting magazine. Did you know that when you give a gift subscription, you are actually giving three different gifts?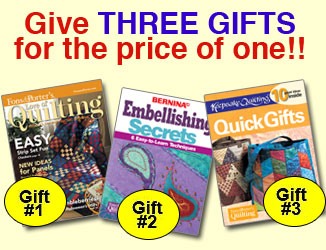 #1. Fons & Porter's Love of Quilting
Each issue is filled with must-do projects, helpful tips, and the newest techniques from America's favorite quilting experts.
#2. Embellishing Secrets
The sewing professionals at Bernina® with Marianne Fons and Liz Porter bring you this exclusive booklet of embellishing secrets! This essential how-to guide will give you hints from the pros so you can use embellishments to create stunning quilts, bags, and wearables. Learn to use couching, decorative stitches, and surface texture to take your quilts from ordinary to extraordinary! Remember, we'll send this booklet FREE with your Love of Quilting subscription!
#3. Quick Gifts
This fun-filled booklet contains 10 SUPER quick-and-easy gift ideas you can stitch in no time. The experts at Keepsake Quilting™ teamed up with Marianne Fons and Liz Porter to bring you some of their favorite patterns for quilts, bags, and table toppers, all perfect gifts for any occasion. Each project contains color photos, diagrams, and easy-to-follow instructions to guide you through assembly. We'll give you tips and easy techniques to help you achieve success. Best of all—this booklet is FREE with your subscription!
Supplies of the two FREE booklets are limited!

Click here to order a magazine gift subscription (includes booklets!)
Click here to subscribe to Love of Quilting magazine (includes booklets!)
Click here to renew your subscription (includes booklets!)
This email was sent by: %%Member_Busname%%
%%Member_Addr%% %%Member_City%%, %%Member_State%%, %%Member_PostalCode%%, %%Member_Country%%