August forecast: hot, sticky, dreary, and basically just unpleasant—that means it's perfect weather to stay inside, camped out in front of the air conditioner—quilting, of course. The hot weather can also be an incentive to look into vacation housing, but if your funds are a bit short for that, you can always try living vicariously through Thimbleberries' Vacation Houses pattern, now available as a quick and easy kit from shopfonsandporter.com. Or, if you are a member of the Quilter's Club of America, (www.QuiltersClubofAmerica.com) you have already received your copy of the new fall Easy Quilts in the mail and are likely knee-deep into one of the featured new fall projects. If you are not a QCA member you can now pick up your own copy of Easy Quilts at the local newsstands. While you're there, look for our new September/October issue of Love of Quilting. This new issue features fantastic designs and techniques showcased in projects like the embellished Fall's Finery, or the incredible show-stopping design of Mariner's in a Pickle.

Don't forget to visit www.shopfonsandporter.com for some great newsletter-only savings!

World of Color, featuring Fabri-Quilt's new fabric collection "Transitions".
Regularly $105.00 on sale now for $84.00 with coupon code AUGSALE.

This great bag made from the Up in Stitches collection by Fabri-Quilt is just the right size to take your 18" x 24" cutting mat and 24" ruler to class. Exterior pockets accommodate a rotary cutter and other supplies.
Regularly $39.00 on sale now for $31.00 with coupon code AUGSALE2.

Designed by Fons & Porter, this Need to Know card includes nine handy charts. Included are: standard bed, batting, and quilt sizes, instructions for making bias binding, quick cutting charts, and lots of other helpful facts.
Regularly $5.95 on sale now for $4.75 with coupon code AUGSALE3.

Designed by Fons & Porter, this Perfect Binding card will help you finish your quilts with binding. Tips include Liz's Lumpless Finish, Making Continuous Bias Binding, and Mitering Corners.
Regularly $5.95 on sale now for $4.75 with coupon code AUGSALE4.
Recycled memories … submitted by Cynthia Wismann of Bonita Springs, Florida
"I wanted to share with you the Christmas Wallhangings that I made for my family this year. The name of the quilt is 'Christmas Wishes' from your Nov/Dec 1999 issue.

"My grandmother on my mother's side was a quilter, and grandpa made her the old-fashioned sawhorses and quilt frames with ticking fabric to pin the quilt to and stretch for quilting. I grew up playing under the quilts that were stretched out in the frames that grandma, my mom and aunts made. It seemed there was always a quilt set up, and after a while, you would, of course, graduate to threading needles so they didn't have to stop quilting for this task – and eventually I was taught to quilt, and the Love of Quilting has been with me since. My mother was one of thirteen children, so sewing was very necessary.



"The frames are now over 100 years old. I inherited them and used them for quite some time. Now, I have a longarm set up, and the old cherished frames were moved to the garage. This year for Christmas, my husband cut the boards to different sizes and I made the wallhangings for my three brothers and my mom and dad to hang on the quilt frames. I kept and used the sections of the boards that had my mom and aunts' initials engraved in them.



"The fond memories growing up with grandma, my mother, and aunts will now be passed down to grandchildren and even great grandchildren. As you can see in one of the pictures, my oldest brother's grandchild, Madison, is very proud to have her own piece of the frame, and her own wallhanging. The other picture is me and mom and dad and my brothers Kenny and Dennis."

Thank you for the lovely pattern and for such a great magazine.
Happy Quilting!
Fons & Porter's Love of Quilting




Give a Gift Subscription to Love of Quilting Magazine
A great gift that quilters love is a gift subscription to Love of Quilting magazine. Did you know that when you give a gift subscription, you are actually giving three different gifts?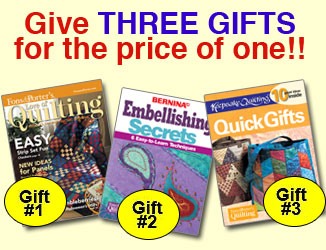 #1. Fons & Porter's Love of Quilting
Each issue is filled with must-do projects, helpful tips, and the newest techniques from America's favorite quilting experts.
#2. Embellishing Secrets
The sewing professionals at Bernina® with Marianne Fons and Liz Porter bring you this exclusive booklet of embellishing secrets! This essential how-to guide will give you hints from the pros so you can use embellishments to create stunning quilts, bags, and wearables. Learn to use couching, decorative stitches, and surface texture to take your quilts from ordinary to extraordinary! Remember, we'll send this booklet FREE with your Love of Quilting subscription!
#3. Quick Gifts
This fun-filled booklet contains 10 SUPER quick-and-easy gift ideas you can stitch in no time. The experts at Keepsake Quilting™ teamed up with Marianne Fons and Liz Porter to bring you some of their favorite patterns for quilts, bags, and table toppers, all perfect gifts for any occasion. Each project contains color photos, diagrams, and easy-to-follow instructions to guide you through assembly. We'll give you tips and easy techniques to help you achieve success. Best of all—this booklet is FREE with your subscription!
Supplies of the two FREE booklets are limited!

Click here to order a magazine gift subscription (includes booklets!)
Click here to subscribe to Love of Quilting magazine (includes booklets!)
Click here to renew your subscription (includes booklets!)
This email was sent by: %%Member_Busname%%
%%Member_Addr%% %%Member_City%%, %%Member_State%%, %%Member_PostalCode%%, %%Member_Country%%